Blåbärstider!
Nu mognar de amerikanska jätteblåbären i allt snabbare takt. De är stora, söta, lättplockade och underbart goda. Smakar verkligen blåbär, men saknar den eländiga röda saften som inte går bort i tvätten.
Blueberry times!The giant American blueberries mature rapidly. Big, sweet, easy to pick and delicious. Taste exactly like wild blueberris, but lack that awful red juice you can't wash off.
De är så goda att inte ens hundarna kan låta bli att smaka på dem.

So tasty even the dogs can't help eating some.
Varför fåglarna inte äter upp dem är ett mysterium som jag inte tänker forska i. :)
Why birds havn't eaten the berries is a mystery I don't need exploring futher. :)Visit other participants in the photo meme blue monday here: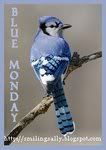 ---
Kommentarer
Thanks for sharing your yummy blues.



Happy Blue Monday, Charlotta.
Wow the blueberries is already ripe. Looks sweet!
Visst är det konstigt? De har börjat ge sig på allt hos oss nu: äpplen, plommonen, körsbären ... Undrar hur man kan få bort de för det blir en hel del "gödning" de lämnar också. Främst duvor som håller på.
Charlotta, your blueberries look delicious! Almost too beautiful to eat! Really like the photo of your pup smelling them... great Blue Monday post. :)
Det där ska jag skriva på min att köpa lista :) ja det är bäst att låta bli att forska i varför de inte äter dem :) Kram Suss
Yummy blues!



Late visiting for BM, here's my <a href="http://www.meetourclan.com/2011/08/wolverine.html">Blue post</a>. Have a great day!
Trackback